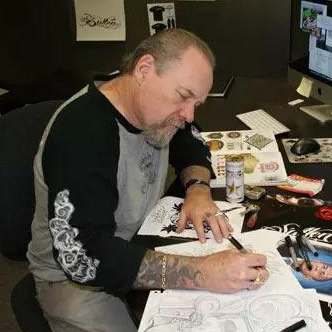 Jack Rudy-how to make better Black & Gray tattoo New
Jack Rudy is a tattoo artist with many innovations to his name. He reinvented "Black & Gray" tattoo style, single-needle use, and realistic portraits. He is considered to be on the best tattoo artists in the world, he is also ex president of American association.
Jack Rudy and his peers revolutionized the genre of black and grey, fine-line tattooing making it one of the most popular styles found in today's culture
During nearly 40 years of tattoo creation, Jack Rudy always felt, black & gray tattoo style need spend more effect, compare to color tattoo style. Color tattoo series can make different atmosphere with different colors, shading cooperatively, while black & gray need artists have well-knit grounding in art, grasp the object structure accurately, descript more details of the tattoo image, meanwhile use the high quality black ink, according to tattoo skill, also involved in tattoo maintain in the end. All these things should be considered into a whole work, so that make a good gray & black tattoo work.
Jack Rudy makes tattoo work creation process, he still found there are some places that did not make well, even if he became famous, when he taught his students, he also found same questions during his students' tattoo works, the reasons are from multiple aspects.
For examples: making totem tattoo works
1. Pigment blackness is not enough, partial gray, not clear and poor anti-color effect
2. Black but not bright, no shine and poor effect of close look
3. Appear turning green after a few period, special in the light, anti-color effect is poor, during the time passing
Making black & gray shade work
1. Pigment mixed uneven makes color effect poor
2. Pigment level uneven makes excessive unnatural, shade poor
3. Pigment blackness are different during twice mixing times, results in appear obvious graded in the whole work, integrity not well
Jack Rude found all recent black pigment existed some issues, such as color cast, partial blue, grey, no one black pigment can be suited for the requirement of tattoo artists, therefore, he always feel very pity until he met Franco Vescovi (Franco Vescovi is the founder of Bishop supply, meanwhile he has over 20 years tattoo experience)
Jack Rudy discussed with Franco Vescovi about the problem of current black pigment, submit the improved method, he thought as one kind of black pigment, firstly, make sure it is safe, secondly is the blackness level, base above two points, make to improve black & gray shade graded. In order to solve the trouble of tattoo color, Jack Rudy though it is necessary to produce a kind of black pigment that has strict design, safe and efficient level black, in order to solve pigment uneven, black level uneven, different blackness between twice times, during tattoo works.
Franco Vescovi was agreed with his idea, after their long time discussion and testing, we develop a new black pigment, named "Noctural". After more than one hundred well-know tattoo artists tested, got all good feedback. So they issued "Noctural" series into marketing officially in the beginning of this year. "Noctural" series will be satisfied the requirement of black & gray pigment from tattoo artists.
"Noctural" series, total three items, super black, graywash and shine white. White there are three levels (light, medium and dark) in super black pigment "Noctural" series is a small particle pigment, great movement water organic pigment, contains three elements: organic pigment, ethanol and sterile water. It has not contained any chemist solvent, so it has prefect movement. Also it can mixed with other brand pigment. Organic formula, no gum element and completely water nature. So "Noctural" series pigment is extremely health and safe.
As Jack Rudy researched "Noctural" series pigment with his 40 years tattoo experience, made cooperation with the word's top tattoo supply, consider all tattoo artists' requirements. When "Noctural" series pigment issued in US and European marketing, it was gotten best compliment from tattoo artists, Got the approval by the marketing. Many tattoo artists shared their works that used by "Noctural" series pigment, when Jack Rudy saw these, felt very pleased.
"Noctural" series pigment, 4 oz, super black, graywash and shine white. There is the sample packing of 1 oz super black, if you would like to try it, please contact follow E-Mail szyl201@gotattoo.com
As the world's top tattoo supply, Bishop has very strict terms about becoming their distributors in the world. Bishop never has any Asian distributor in the past, because they wish there is a good reputation company to distribute their all stuff
Trendy Tattoo Supply is a good reputation company in the world, as it is a professional and honesty tattoo supply, Trendy Tattoo Supply often was invited to attend professional oversea tattoo convention, often the best service to tattoo artists continuously.
Trendy Tattoo Supply has good cooperation with many good reputation top oversea tattoo supplies. Bishop also appreciated this point very much. So two parties signed the exclusive agreement. Trendy Tattoo Supply became Bishop's exclusive distributor in Asian. As Bishop's offer professional and high quality stuff, artists like them very much. Trendy Tattoo Supply always offer excellent service and push the whole Chinese tattoo industry process, the cooperation of two parties will get the win-win effect, Trendy Tattoo Supply will bring more top oversea stuff to Chinese tattoo artists.